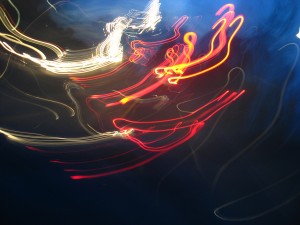 When your batteries are low in your camera, you can try to take weird and wonderful "moving" pictures that can produce interesting light trails. At night, look around for colorful lights.
Hold down the button and move the camera in circles or zigzags. My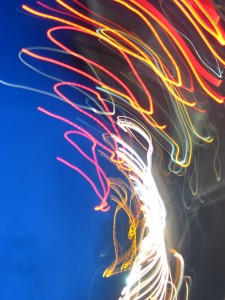 husband always laughs when I do this on our road trips (PS- while he drives  of course, not me!)
You have to experiment with this procedure because it really takes a bit of luck to get a good image. I take hundreds of these but every once in awhile I am totally amazed at the results.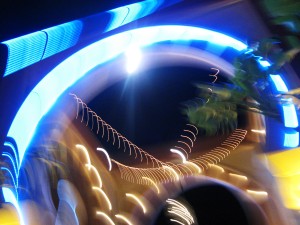 I especially like to try this in an outside strip mall, where the store lights are bright and different colors. The movie theater marquee is especally terrific to create this kind of image. Another idea would be to hang three photos with the same color background next to each other on a wall.
Cropping some of these will also give you creative images. Many might look good as  pieces/parts, squares, or you can make a mosaic, using pieces placed together to make one large collage. Look at Salvador Dali's "Lincoln" painting sometime, it is made up of lots of tiny images.
Often I will up the contrast using Photoshop, it makes the background less distracting. You can make tiles and other fun effects playing with the various items in "filter" from the top bar, scroll down and try embossing or blurring.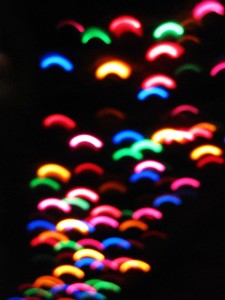 Have fun while attempting this, remember it takes patience and really slow batteries to make it happen.