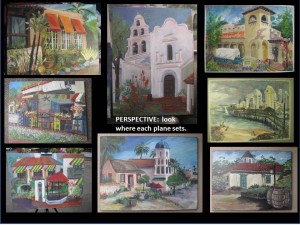 It is always a pleasure to paint buildings. Sometimes I paint them from the front, but I prefer to come in on an angle that leads your eye into the picture. This adds dimension which is an interesting aspect to painting something showing depth on a flat plane.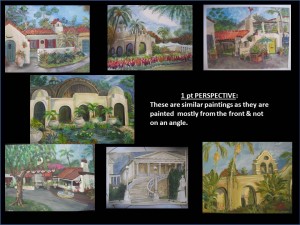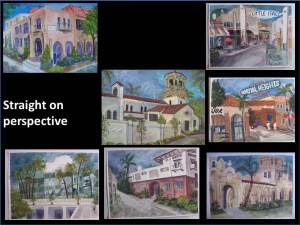 I love the detail and the textures in the plant life, and this year I think I have figured out how to portray stucco walls. I am now learning that purple in the shadows helps keep the painting look more vibrant than using blacks and grays to add the shadows.
Pieces here are mostly from this year in San Diego so I am learning about painting the plants along with the palm trees. The artists I paint with usually tease me that I always put in palm trees, well, we don't grow those in Ohio!
I also enjoy developing strong compositions. I want the viewer to look at the features I put in the buildings and arches and windows, even the colors and the sidewalks. Diagonals and curves help create the illusion that you are able to go into a painting.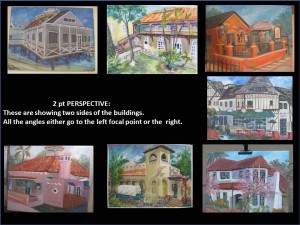 Often these look a bit whimsical because they are not photographic, they are painted visions of real buildings and restaurants!
If you check them all out, I always go for the texture and patterns.
Go out and paint and enjoy yourself.