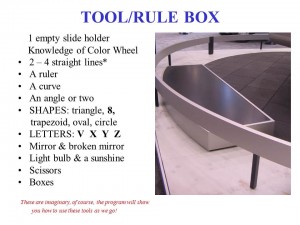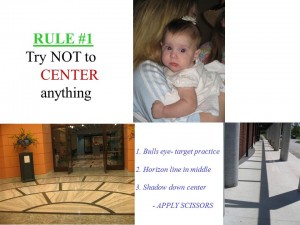 When I gave a talk on rules of composition to a camera club, I started by showing this slide. I have to say, the first thing on this list is more for painting, as I use an old-fashioned, empty cardboard individual slide holder (push out the negetive inside it) to help crop and decide how much area I want to paint. The view finder in your camera has the same effect (and remember the Rule of Thirds).
The scissors in the tool box is for cropping also. If you center things, creating target practice, or take something that makes you want to chop the work in half, then "apply scissors".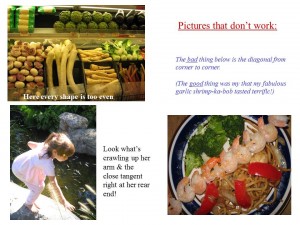 In a previous blog, I explained the color wheel and how background colors can change the color in the foreground. I also talked about perspective and coming in on an angle instead of straight on, but diagonals and curved lines add excitement to photos and paintings because they bring your eye into the piece.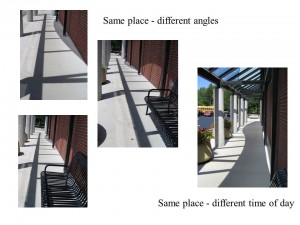 And creating certain shapes within a picture, they add to the composition to make the viewer look around and within the piece too.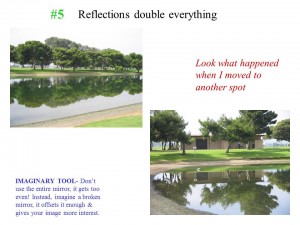 The mirror and the is to remind you that it is more interesting not to have things doubled, a broken mirror has less similar reflected items. I shared a slide that had a curve of a sandbar on one side, so the reflection was cut off and not whole. The light is the source that gives you contrast.  We want interesting shadows leading us into a picture so low light and no shadows can make for a less exciting piece.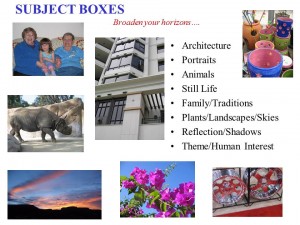 I told them there are many other tools and one is to have some empty boxes. Those are to fill up with new themes, like the ones I introduced (Primary Colors, Skies, Colors of Spring, Flowers, etc.). I see many people getting stuck on the same subject, so this is a challenge I offer you, do something different, take a risk.