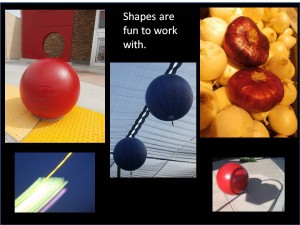 Often I just shoot on-the-run and will get some very unusual pictures. I collect them in files over the years and never pay attention to them until I go looking through my hard drive and then fall in love with them all over again. But, ever since my daughter said to me, "I'll never understand your mind Mom!" when taking weird photographs (like the melons cut in half and covered in shiny wrinkled Saran wrap at the grocery store), I realized that I have taken some shots I'll call- "What the……. heck?" or "Just because!"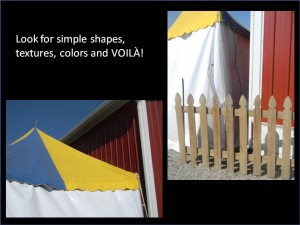 "Just because" could mean that I see great shapes (the fence and tent at the County fair) when taking away some of the noise around something (the red Target balls above), or high contrast or 2 textures that oppose each other. Same color or bright color will catch my photo eye (complementary or primary colors, or my themed shots red/white/blue), will get me excited.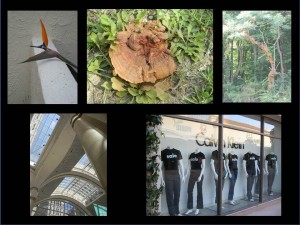 Lined up things (look at the Calvin Klein window) are inspiring, as well as animals doing things not necessarily something they would normally do. Natural occurrences such as the poison ivy growing in an arch up the tree, or that ugly fungus of brown gook popping up in a neighbors yard, can be spur-of-the-moment surreal shots too.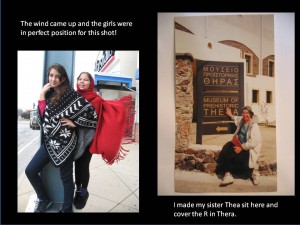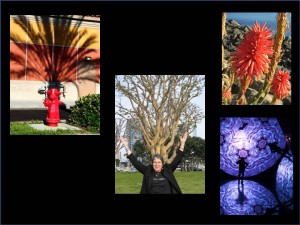 You should know by now that  I love reflections and shadows, images that really aren't there if the sun wasn't out, or the juxtaposition of objects and irony makes me smile. My favorite shot below has to be the fire hydrant with the palm tree shadow coming out of it.
I even love taking pictures of tree branches coming out of people's heads (I got my sister to actually pose for this one)!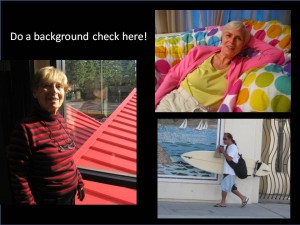 Look for repeated shapes and backgrounds that enhance the subject too.
That lady with the red stripes was standing in front of my daughter's office and I saw the red roof in back of her. My friend Joyce had on the colors of this quilt and I asked her to pose. The surfer couldn't have walked in front of a better store front window.  Moments like these can only happen if you are aware of the possibilities and elements of good design.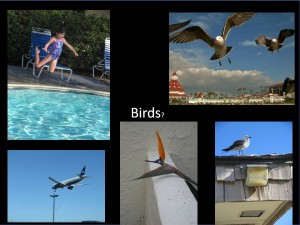 The BIRDS: My granddaughter is a daredevil and will jump or fly off anywhere. She chased those seagulls on the right so they look like they are coming at you, I call that shot "Gotcha!" And look at that lovely bird of paradise laying on the wall and I adore the textures  below the seagull, I saw the various roof shingles and close colors that makes this more interesting.
These all make for great photos. FYI- My daughter took the airplane landing on the light post because I am determined to get a picture of an airplane landing on the roof of the airport parking garage on Laurel Street in San Diego. She now continues to try to get the photo for me. Both of us have been close, but no cigar yet. The corner of the airport exit at  Laurel Street is where you can see the planes coming in right over that building. If you live in San Diego, next time you go to the airport, watch for it.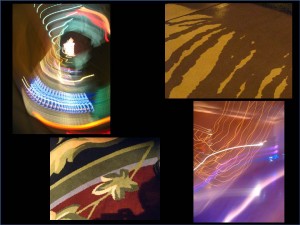 Of course there are those abstract photos where the viewer is not sure what they are looking at, those I love to capture. The zebra" stripes are actually running water on a sidewalk, thought I might clue you in on that one, and the two light shows are done with my camera when the batteries are going low, just move your camera near lots of bright lights.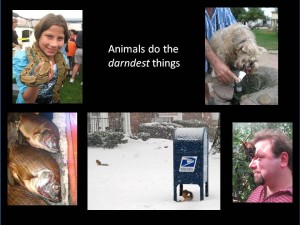 Send me some of your "What the heck" photos if you have some of them. Better yet, go take some, although they are never there when you go out looking for them, they just happen to catch your eye on any day (be glad you have your camera when is shoots out at'cha!)
Click on any of the above collages to enlarge them and use the top left arrow to go back.