So sorry but I was doing  some major "research" in Cabo, Mexico this last week.  I took loads of pictures on & off the Sapphire Princess cruise, especially for your viewing pleasure. SO here goes–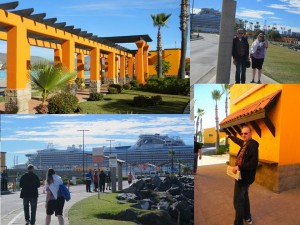 Got off the ship in Ensenada, MX. and was immediately drawn to photograph this brilliant yellow structure and the shadows that were cast by the upper cross beams. Mexico is so full of color that my shutter finger hurt when I got back LOL!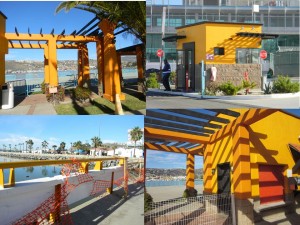 Cannot wait to share  boat pictures as we spent two days in Cabo due to an unfortunate situation. There was a medical emergency on board with one of the passengers, and the Captain turned the ship around and back to a hospital in Cabo San Lucas. So we never made it to Puerto Vallarta, but I am hoping to get some inspiration and paint some of the fabulous scenes from Cabo. We did get to go to Todos Santas (an old town with fabulous buildings anmd a mission surrounded by artist galleries!) and then Santa Maria Bay, where we tried to learn how to snorkel. We really learned how not to drown! Never did get to see the fishes, but they saw my husband and me kicking like crazy as we attempted to use the flippers provided on the catamaran that we went out on.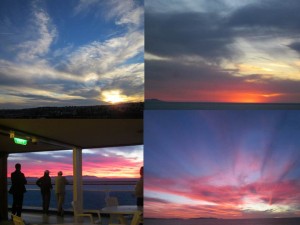 These are just a few of my thousands of vacation (to Cabo)pictures and I promise to keep them coming.
The sky, the night when we left, was soooo amazing and as the minutes went by, these extraordinary shots were taken as the sky went rainbowy-red. I did take loads of sunsets and even managed to get up early and take some sunrises!
Keep on taking pictures yourself and painting too. Here's an assignment:
DeSIGN ELEMENT-      "Shape" (and repeated shape too)
Use your camera or brushes and create work using this topic! Good Luck