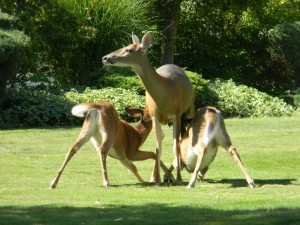 Today is my first anniversary of doing this blog so I have a gift for my followers. Have fun!
From PENCIL GAMES Magazine Spring 2008.
Match the song title with the occupation below (it could be a theme song for them to adopt!)
Pictured here is "Oh Deer!"
SONGS:
The Man on the Flying Trapeze
Deep in the Heart of Texas
Knock Three Times
Silly Love Songs
Lucy in the Sky with Diamonds
Roses are Red My Love
King of the Road
Wake Up Little Susie
Mrs. Brown you have a Lovely Daughter
American Pie
Bette Davis Eyes
Stand By Your Man
I Love a Rainy Night
—————————————————————————————————–
 OCCUPATIONS:
a.   door-to-door salesman
b.    meteorologist
c.    truck driver
d.    circus performer
e.    delivery-room nurse
f.    movie make-up consultant
g.   disc jockey
h.   florist
i.    alarm-clock
j.    square-dance caller
k.   flight attendant
l.    Houston Chamber of Commerce
m.   baker
Can you make up a few more? Sure brings back lots of memories if you are from my generation (old that is!).