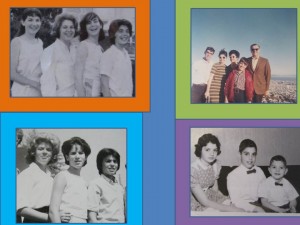 Funny true story. My former neighbor moved to San Diego last month, and happened to come to the JCC for a discount membership early one Sunday morning (that's her in the purple frame with her two brothers).
She met a woman (my daughter's boss) who handed her fliers of upcoming classes and events. While standing in line, she read one and realized that she recognized a name from the past, (my sister!) way back to childhood in fact.
Well with the advantage of having a smart phone in hand, she facebooked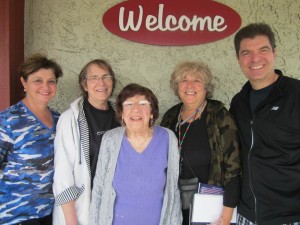 my sister and they "talked" and realized the connection and that her niece worked at the J.  My sister facebooked me with a few details and I told my daughter about it. Well, she had a luncheon to go to that afternoon and left. In about a half an hour, I look on facebook and there is my daughter, next to my old neighbor at the same luncheon. Out of a thousand women and a hundred tables, what were the chances of this happening?
Now, I am wondering how the heck they got together. It turns out that my daughter's boss was the lady who handed her the fliers and she saw her at the next table. She went over and said her friend had told her that her niece worked at the JCC and did she know her? Her boss said that she would be sitting next to her during the luncheon and she would introduce them.
Okay, with me so far? Go forward now, I look at the facebook picture and am bowled over. Within two hours, I see a photo of my daughter and my friend standing together at that luncheon. Well, she came over to meet me the next morning and I told her that my sister (who still has our maiden last name) and I are giving a poetry reading (tomorrow night actually Feb 18). We then made a plan to visit with my Mom and my sister in Laguna the last weekend.
Later that same day, I connected with another former neighbor from our old street as he was online on a facebook chat – so we chatted and I told him the story (he had 3 siblings).  Well somehow since January 12, at 7:30 in the morning, between my sister in Florida, my two old neighbors from childhood and myself, we started looking for all the kids who grew up on our little circle street.
We now have eight families out of the 14 houses on our tiny street (and more on the adjancent street), 25 kids got connected after 50 years. So far who are all remembering riding bikes, and Fourth of July Adventures with my Dad, block parties arranged by my Mom and numerous other journeys. Back then, we walked long ways, (even slugging through snow and sleet and ice) to Belvoir School took public transportation to Wiley Junior HIgh and to Cleveland Heights High School (when we didn't get a ride from my Dad). Am also learning a bunch of funny things that happened so long ago, and now everyone is of course, all over the US. My Mom is floored at how many Doctors, lawyers, scientists, artists and PHD's there are from our little corner of University Hts. Ohio.
Yesterday, my friends' kid brother (pictured above) and his wife came to San Diego and we had brunch with them in Oceanside. How weird is that, the kid was four years old when I last saw him and he towers over me now? We pulled out the old pictures, which was a riot and my Mom was so thrilled to hear all the stories, (and told a few on her own too). My kid sister now has a website with all of our families past and present photos and stories and we are all enjoying this so much. We are begging them all to dig through their old pictures so we can get a good laugh (and a joyful cry too!)
This is a small world so make the most of it.