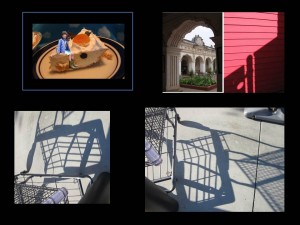 When deciding what to take a picture of, I often take what is not there. Then sometimes, using Photoshop, I can place someone where they are not. My favorite things to shoot are textures and shadows, and the shapes they form create such contrast and add drama.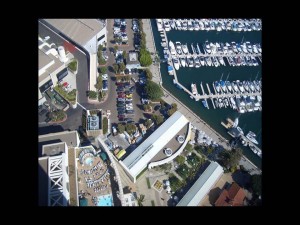 Our job is to break up the space in an interesting way. This is a straight shot looking down from a tall building. Looking up also gives fabulous opportunities for great photos. Cropping can make all the difference because you can choose how much of a shape is needed and where your center of interest is needed.
The usual format for taking pictures is a rectangle, but once I took a photo course, and we had to shoot for a square, a triangle and a circle. We cut out these shapes and placed them in front of the lens before choosing the shots. It is a good excercise and take practice to be able to see it without the croppers.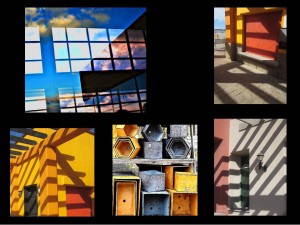 But shadows at a certain time of day do something magical. The diagonal ones, especially those that cast lines across items or walls are always exciting. And don't think normal things cannot be exciting to take. Look at the shadows on these walls, they add texture and make a great composition to boot.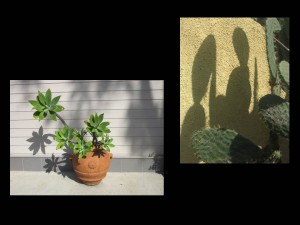 So whenever you are "oot-n-aboot", remember it isn't always there, you have to look for it and make it happen.
So go and shoot something different.