We all learn how to mix the primary colors in preschool, or there about, but there is an important reason why we learn this. Color is all around us, in the things we purchase to wear, to sit on, to eat,and to paint with too. So I decided to teach my 100 year old Mom, about color theory and you get to learn it along with her.
Once you understand that the PRIMARY COLORS are the basic color mixers, you can make any color. So yellow and red make orange, yellow and blue make green, blue and red make violet (that's what it is called in the art world).These are called the SECONDARY COLORS - they are mixed with the primary colors.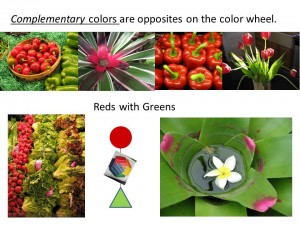 Across the way from each of these colors, are the COMPLEMENTARY COLORS.
Any GREEN object you use next to RED, will make the colors brighter and more exciting. If your red is a bluish red, than a yellower green will be it's complement. If you can imagine all the colors in between red to yellow, or red to blue, you can see that there are so many to choose from, but the opposite one will make the magic.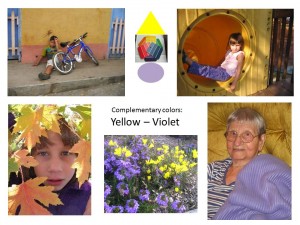 YELLOWS and VIOLETS can set a mood if they are pale, but the brighter ones also will do the trick. And look at BLUE and ORANGE, a wow factor when there is just a touch of the complement in a photo can make your work so much better. Use your hand and take away the complementary color and see what I mean. The pizzazz goes away. Just a little hint in the ball by the boat dock was what drew me to take the picture.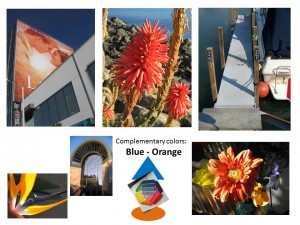 The next color concept is using that color wheel to find ANALOGOUS COLORS. When looking at the chart, see where the colors next to each other can enhance the ones on either side.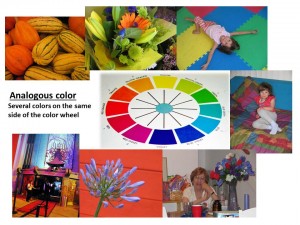 .All of these slides are from a book I am working on teaching the basics of "Photography by Design." Some year, I will get this published but I can give you hints to taking better photos or making more of your paintings using these theories. In a class I am taking we are exploring pale to bright, to washed out whites to saturated colors. When you use some of these mixtures together you can get great explosions of color. A bright red in the middle of dull, grayed down tones can "sing" out loud, and the opposite can happen too. Ladies, you can try adding a scarf or jewelry to an outfit and see it pop when it is with the right color combination. So experiment with your colors and find out what you can come up with to make your life more colorful.