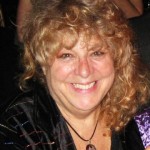 Since 1970, Penni Rubin has taught and advised teachers, day care-providers, nannies, and parents in creating educational activities, "hiding the learning in the fun" for children of all ages. As a parent of two, Penni founded and directed Crafty Cuties Pre-school Enrichment Centers in various Cleveland suburbs. Thousands of lucky Cleveland children have gone through this on-going program with their parents. In addition, Penni has created and made interactive learning WONDERlabs that promote science, art, and math activities in many schools, preschools and libraries in Cuyahoga County as well as the Shaker Heights libraries. And for 14 years, as the Creative Play instructor at the English Nannies and Governess School in Ohio, Penni taught everything from environmental sciences and dramatic play to music, art and creative movement.  Penni was on staff at the Cleveland Museum of Natural History.
Author/illustrator (Mommy I Have Nothing To Do Book, Science in the Sandbox, Math in Motion, What's Under Your Feet?, Why is the Sky Blue?). Singer and song writer, popular lecturer and teacher trainer in Creativity in the Classroom, using her Project S.A.M. M. (integrating science art and math/music) into curriculum of preschool & primary students.
As an artist, Penni has painted hundreds of paintings of still lifes, landscapes, musical instruments, and flowers. Her artistic eye extends to the world of photography. As a teacher, Penni teaches and critiques water colors and photography in San Diego, California. She has had many shows in and around Cleveland and suburbs as well as San Diego.