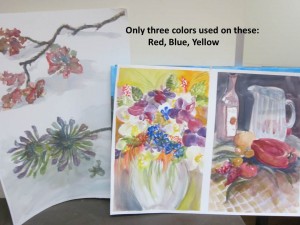 Recently in a class, we could only use three colors to paint with and they were the primary colors; Red, Yellow and Blue. Only, we had to use certain ones together to get different effects. These were watercolors and I did not have all of the names Annette Paquette chose, but I saw the differences in the ones that I did have. Some made very bright colors, others dulled them done and were great for saturated color paintings.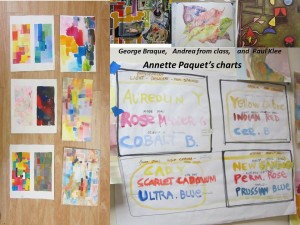 We all know what secondary colors are with red and blue, and yellow and blue and red and yellow, but WOW, when they can be changed like this, "you wonder where the yellow went" (have to be my age to know what  that is from!) and the blue and the red.
Greens should always be mixed. in fact my word of advice to any painter, phtylo green is ONLY for mixing – there is nothing in nature that is "POISON" green (unless it is a painted sign or roof or plastic chair.). BUT – mix it with violet and get this gorgeous gray tone that is a cool color, mix it with a red and dull it down to make it a warm color.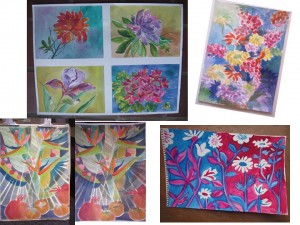 Color can be warm (reds, yellows, oranges) or cool (blues, greens) but when you add yellows to greens and blue to greens they change temperature. Knowing about how color works, is a great advantage.
If you have any questions, please feel free to ask.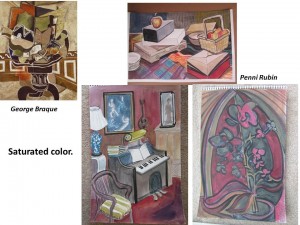 I helped one of our newer plein air painters with how to connect and make a painting cohesive  by using complementary colors;  like throwing a wash or glaze of red in the green tree shadows and green washes in the red (barn) shadows. There is a scary moment when you think it is nuts to do that, but, it does make everything come together. Also, saw an art exhibit by Sorrello at the San Diego Art Museum, and he said that "the Impressionists gave us the color purple," and that is the color that I remind painters and students that adds the pizzazz to any shadow in a watercolor (add a drip of cobalt blue in a corner and voila), a fabulous painting with a few tricks of the trade, plus the bonus of the use of color knowledge.