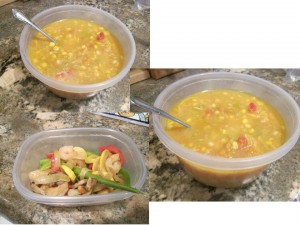 Oh boy, I had to share this with you immediately before I forgot how I made this. Several years ago, my daughter and I went to a special cooking class by the Cancer Institute. They made a sweet potato Moroccan soup that we really enjoyed. Since then, I keep a can of sweet potatoes in the pantry shelves just for cold days.
Well today I finally felt better, after having a case of some kind of flu all week. I wanted something soothing so I made the soup, but added some things and it was so fabulously good that I just had to share it with you. Plus, this way I keep it on record so next time I need the recipe I have it. Reminder, nothing is written in stone here, which means the amounts are
"whatever!" I do not measure anything when cooking, baking is a different story (and I rarely bake except with crescent and Grand rolls!).
                            PENNI'S SWEET POTATO SOUP
SAUTE: (in eveo)-  1/2 diced onion, 2 chopped stalks celery, and 1/4 of a red peppers, chopped. ADD: 1 can chicken broth, 1 Medium can (29 oz)  sweet potatoes (smooshed), 1/2 shredded yellow squash, some roasted butternut squash, 1 C orange juice, 3 squirts mustard, sprinkle of dried garlic, and at the end, add 1 can whole kernel corn
Another one of my favorite soups for a cool day is one I learned at the Cleveland Museum of Art. I went home and tried to cop it but missed the mark. When I went back I asked the chef what I did wrong and he said you need to use cream. Haha, I am at times lactate intolerant so I decided to use evaporated milk and it worked with a dab our sour cream at the end.
                              PENNI'S PEACH BISQUE
1 C chicken stock, 1 can evaporated milk, 1 large can peaches (juice and all) In the Blender, put the peaches and the milk, add to the heated soup. Sprinkle in parsley, garlic powder, sherry, a T butter and 1/2 instant mashed potatoes to thicken. This is good hot or cold. You can reserve a few peaches and rough cut them for garnish, with a dollop of sour cream and voila, your taste buds will thank you!
The other dish pictured above was one I did with 1/4 lb pre-cooked and deveined  shrimp that was on sale.
PENNI'S QUICK SHRIMP DISH
Shrimp, fresh whole green beans,  sliced yellow squash, and mushrooms. In a frying pan, saute until the squash slices are tender. Add some fresh green beans (I zapped the green beans earlier!) and then add the shrimp and sliced mushrooms. This was a very quick meal for the family while I was not up to cooking!
FYI: Any kind of soup enhanced with sherry, butter and instant mashed potatoes is "S'wonderful". So do not be shy, go make some soothing soup.
Next time I will give you a quick lesson in what you can do with pre-packaged Pillsbury (or generic brands) dinner rolls.