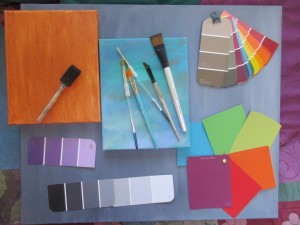 I noticed a lot of  beginners do not know the steps involved in doing fine art in acrylics (or oil). Step one, save photos, magazine pics, cards, books and any visual aids that will inspire you. Don't copy them but use these as reference materials and that will make you more aware and give you ideas for your work!.
Look through art books (or go online) of different artists. See how they use values and contrast. Look for some of the ten design elements they use. 1. Line, 2. Shape, 3. Form, 4. Color (learn the color wheel), 5. Light (contrast/values and know where your light source is coming from), 6. Motion, 7. Texture, 8. Pattern (repeated things = color, shape), 9. Space, 10. Time. Our job is to create space on a flat canvas (or board, paper or wood).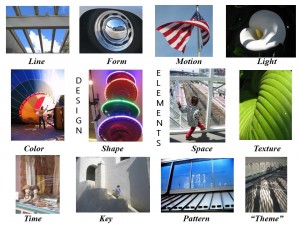 Go to a home improvement store and get some free paint samples. Make a color wheel, start with the three primary's (red, yellow, blue) and fill in the colors they mix for you secondary's. Pick up samples of black to gray and white to gray and create a values chart. Tape it together in the back so you have this tool in front of you to remind you to check you values. Black is # 1 and White is # 7 on your homemade chart (or artists use thirteen and seven is mid-range)
Start out by preparing a canvas by under painting it (use a sponge foam brush) to cover the entire surface. The Old Masters started with a beige (like paper bag brown). This neutral color helps you to see that your colors are darker or lighter. When using a plain white canvas, everything is darker and you need under painting to make your piece cohesive! For my florals, I used an amber (warm tone) but under these samples is the gray tone and I mix and I put the paint right on the canvas. I use craft acrylics and just pour the colors on and with that sponge brush, and cover the front and sides of the canvas. I hope this helps some of you as I would love to see your progress! Keep painting- Penni Rubin
FYI: when learning to cook, you may have bought all the pots and pans, ingredients and tools, but still you need a little guidance to become a cook. It is the same for beginners in art! There are some basics we need to proceed in our adventure with becoming a painter! Experience helps you develop your style, no one can teach you that but there are some tips that artists can hand to people who would like to do well and don't know how to go about it.
Thank you for the tips. I found the under painting tips most helpful. This is always my #1 mistake. Will this help the texture as well? I see others who's paintings appear smooth or you only see paint texture and/or brush strokes sometimes but my paintings are rough because I can see the texture of the canvas through my paint. Rookie issue big time wink emoticon    from 
Stephanie
Brian
 I have a great respect for anyone with that much experience who is willing to share, and want to Thank you.
 I started painting in 2014 at 53 and need all the help I can get but mostly just need time to paint. From what I can tell there are basic does and don'ts that any newbie would find helpful. Sometimes on the internet everyone takes everything so literal, its frustrating. The way I learn is to take someone with more experience ideas and suggestions and give it a go, in the process I usually end up altering or changing it somewhat, or I toss it out the window after I make a determination. At the very least I have a starting point, or something new to try. None of this effects my creativity it only adds to it, so thanks again for posting.
Judy Penni I am a real newbie to painting with acrylics. Actually to painting. I have some done watercolor with some success but struggling with acrylics. I have printed your instructions and advice. I am excited to try them! Thank you for taking the time to try and help us (me:)
Dee Dee
 Penni Ruben ,thank you so very much for you help .You are correct those of us who are just starting out do need help. I found your information valuable.