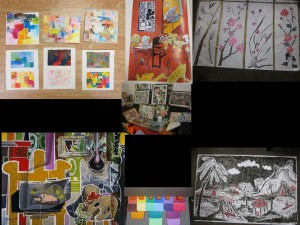 Inspiration comes in many forms I am finding out, as I have been painting every day now. So I analyzed how this happened, especially when I was rejected from four art shows! This is probably what got me turned on all of a sudden to try to create a new style or different kinds of works.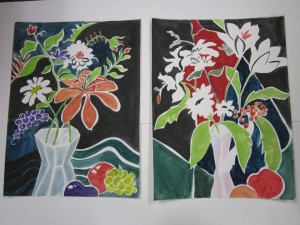 Started with a class where we were to do various color schemes using only red blue and yellow in different paint colors. (ultramarine, cobalt, or cerulean blues, alizarin crimson, cadmium red or rose madder, yellow ochre, yellow or lemon yellow). The staining colors and the bright colors change the mood of the piece.
Then we were to do one where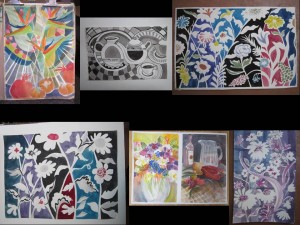 the background was black, using white highlights and using bright the colors that would pop. (see above). I also am taking a course online at Coursera.org and the teacher was showing a Matisse studio painting of his studio in red. In DRew Bandish's class, we were doing Trees and negative space, so I related the work of the two kids on the swings and combined the duller graytones that were going to be next in Annette Paquette's class- so I joined the two in this piece.
I continued to do black backgrounds, creating "wallpaper-like" designs and experimented with adding colors. A friend loaned me the post cards of paper cuts by Matisse and I pulled out my Braque books (and on Cubism). I especially love the "Round Table." I actually saw it in person once in the Phillips Collection in Knoxville TN. and when I was at Parsons School of Design, I had an opportunity to see the Lasker Collection. They have a Braque in their front drawing room, (wish I had one of those)!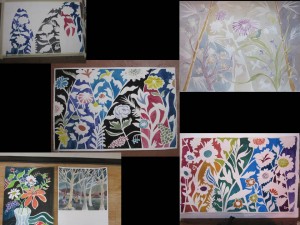 The next set of influences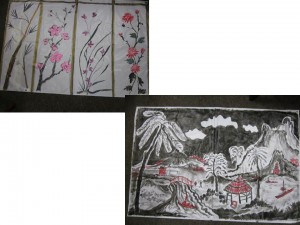 happened because at the next JCC Senior "Senior" Prom this year it will be the "Asian Promenade."  I also went to a Japanese Brush painting exhibit and saw what students have been doing in this course. I checked out some Chinese block prints also and attempted one of those in watercolor. I also pulled out my old paintings from brush painting class and found the "4 gentlemen- 1. bamboo, 2. chrysanthemums, 3. plum blossoms and 4. orchids", and started practicing sketching them. I created these 2 huge banners for the event using acrylic on the back of used advertising banners. I remembered that I have a huge fan and other oriental things I could use for inspiration for this prom also nd pulled those out. Adding all these events  is how I got so inspired to paint everyday now, and I created "My Studio," the painting shown below.  It is truely a culmination of all of the above (and just think, I could paint this for anyone if they sent me pictures of things they love.) I love my stuff and they sure look appetizing in this montage.
OK- Play a little game here, see the differences between the finished one on the bottom and the one I took before I put it behind plexi so you could see the colors better!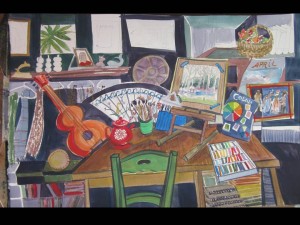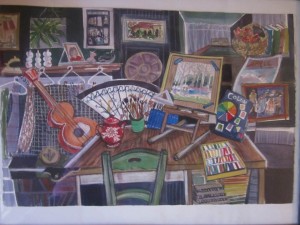 I tied it all together and you can see the influences here within the paintings. My studio was really fun to create because I even put in the painting of the trees with the kids in the swings taped to a board on my easel. However, I never use blue tape, so that was just for fun.
……………………………………………………………………………………………………..
FYI: I adore Braque's work and I once coaxed my students into painting (copying) their favorite painting. Since I never did this myself, I did a Braque (the one with the clarinet) and glued sand on it to create that texture as he did it. I have to tell you it was a fabulously fun and rewarding assignment, I reccommend you try it, then you can "own" a sort-of original painting by your favorite painter!