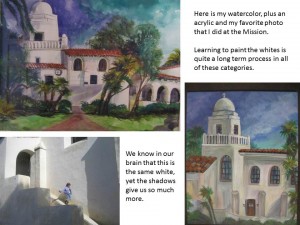 This is the Mission in San Diego done in three art mediums. In  the photo in the bottom left, it shows how difficult it can be to portray a stucco wall in paint. As you can see, the white changes within the shadows so to paint it efficiently, you have to adjust the way you think.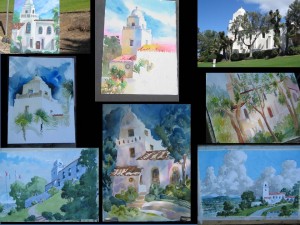 Many painters in San Diego spend hours trying to show the true colors of the mission. Here is my California plein air group several years ago who share their talents every Wednesday. We have gone to this spot over and over again, and always come up with something interesting and different.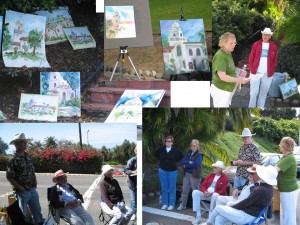 Click on one of the collages to enlarge them, then use the left arrow to go back. May all your missions be accomplished.
These are my some of my older paintings and I can see where I started to understand how to deal with stucco walls and whites. A lesson every watercolorist needs to know because we have to save the whites (that's the paper!) and going back means having to use Chinese White or acrylic paint to cover our mishaps!
These San Diego scenes are fun places to visit. Some are in Balboa Park where all the museums are located.