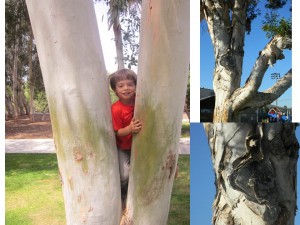 Out here in California, they have trees that defy what most think of bark.  Eastcoasters have no idea that tree bark could look so different from what we are used to seeing. But they make very interesting pieces parts shots. I take pictures all the time, they are so photogenic and make for weirdo pictures sometimes.  Some have little crotchity looking things or paper like peels, some have round knobs that can look like faces and you never know what the shadows create when you shoot them. The colors are even weird, reds and golds, and the whites and rusts are the ones that blow me away. They can look like painted de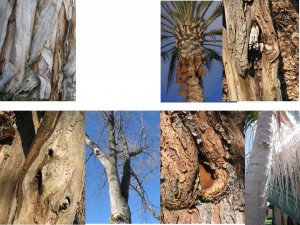 serts or abstract art.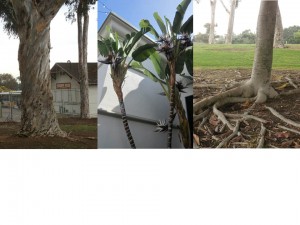 When I go out to paint, some of the trees look strange and I stop myself and ask if they are "readable", meaning if the viewer is looking at them, would they believe they were real. Look at the root system on this one and the bark looks like Balooga whale skin (which by the way feels like kid leather gloves!). The Birds of Paradise on the tree are white and black and huge. And the paper bark peels away to the next layer. If you are a painter, try to capture bark in your neighborhood, it is fun to paint it.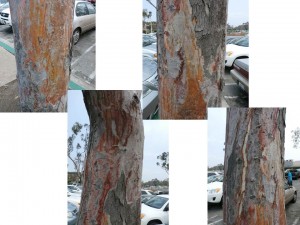 And if you like to take photos, go see if you can find some gnarly looking knot holes and find a face or something. Gooey sap is fun to take also and insect sacks are interesting if you get up close and personel! these are good abstracts and people won't know what it is.