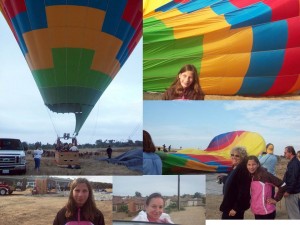 Well, for getting straight A's on her report card, Ms B, my grand daughter, who is eleven now, got to come with me on my Mother's Day gift – a Hot Air Balloon ride. This is my third trip but this one went above the clouds.
This is a picture of her before and after as she was adamant that she wasn't going! My daughter and I had our suspicions that she might not want to go so Melanie took her motion sickness pill ahead of time just in case.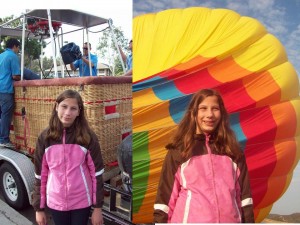 Well, Ms B said she changed her mind and decided she would go but was going to figure out how to get even with us for tricking her!
We actually went above the clouds on this trip and it was fun to see the other balloons pop through them. There were three others but we were not very close.
Here Ms B has her head in the clouds and had her hand on one.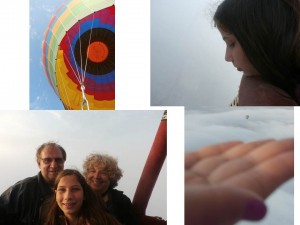 If you have ever thought you were too chicken to do this, I have to say, you become the wind, honestly, and have no clue how high up you are. There is no sense of height - and I am afraid of it - but this is the most serene thing you could ever treat yourself to.
Oh, by the way, forgot to tell you, my husband Richard had always sworn he would never go up and would always be in the chase truck. At the last second, he decided since his grand-daughter got brave, he also would. He cried and got so choked up, but we got him a ticket and he enjoyed it even tough he kept asking our pilot Farrell - "We aren't going above tree top level, right?? Right?"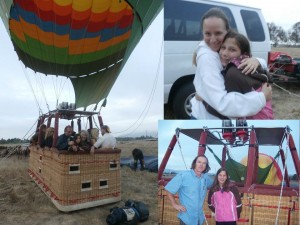 Well, he loved it and we all reccommend a family bonding experience like this and go up up and away.
Farrell, our pilot, let Ms B pull the propane torch at the end and she was telling him how awesome the trip was.